PHOTO: ABC
The Bachelorette Recap, Episode 10: The Chad Tells All
This was my first 'Men tell all' episode and I think the name is misleading. Here are my suggestions for a better episode title:
Wait, who's that
Seriously, who is that?
STOP TALKING, YOU WEREN'T EVEN THERE
Chad, Chad, Chad
Hopefully, Chris Harrison will see this and take my suggestions into consideration.
Okay, now onto what Chris Harrison says is the "most anticipated reunion show ever".
The episode starts with Chad exiting a car and walking, whistling of course, into a trailer filled with sweet potatoes, and plates of meat, and guarded by a security guard. Just like my dreams!
In the studio, Chris Harrison (again, it feels weird to only call him by his last name. Chris Harrison or bust), reminds us all who all the guys are. James S., Grant, Ali, Brandon, Christian, Nick B., Derek, James F., Daniel, Jonathan, Vinny, Evan, Wells, James Taylor, Alex, Chase, and Luke are all reintroduced to the entirely female studio audience, and to the Bachelor Nation watching at home.
Chris Harrison starts the night strong by asking about what went down between Alex and Derek. Now, you might be thinking Alex and Derek would be the only ones to weigh in.
Well, you'd be wrong.
Old Saint Nick, whom you might remember, arrived dressed as Santa in the first episode and made the women of the world collectively lose a fertile egg. For some reason he decides to jump in on this to talk about Alex's Napoleon complex. Yes, he probably has a point. But dude, no one cares about you.
Wells jumps in to defend Alex. Luke gives his opinion on military men, explaining they're taught to fight and it's impossible to get rid of that mentality. Woah. I was not expecting a military psychology lesson, but I guess this show is all about surprises.
The guys bicker a lot more about Alex and his issues with everyone, especially Chad. Grant (oh yeah, there were black guys on this season at one point), says Alex "put more into trying to take Chad down than you did trying to take JoJo down". Well, good!
The best part of this segment is when Damn Daniel, who's really grown on me since he was eliminated, jumps into the mix to somehow simultaneously defend Chad and make sure everyone knows he doesn't really care about Chad. The guy is not smart. I enjoy him immensely.
After some more Chad talk, Chris Harrison decides it's time to finally speak to the devil.
Chad comes to the stage—with his security guard in tow—and all is right in the world. Chad says the guys were constantly talking about him, and he reacted the way he did because a person can only take so much! It wasn't that he wanted to punch everyone, it's just that when you hear your name being whispered all the time, what else can you do?.
Chad says he was the only real honest guy in house. Ha! He points to Chase being Vine-famous, Alex's modeling, James Taylor's singing career, Well's radio show and Evan being a penis doctor as examples of the guys just using the show to further their careers.
Okay, maybe the last example didn't work, but he does have a point.
Chad explains how he couldn't stand the way the guys wanted to get to know JoJo so badly, when they didn't know anything about her. Wait, what?
"Your actions after JoJo's season speak volumes about the person you actually are." - Grant #MenTellAll
🌹 pic.twitter.com/CkGteguROw

— The Bachelorette (@BacheloretteABC) July 27, 2016
Grant decides to bring up Chad's post-Bachelorette activities. I've been avoiding spoilers so I've only tangentially seen this stuff, but apparently since the show ended, Chad has dated both Grant's and Robby's exes.
CHAD!
According to Chad, he's trying to show the women not all guys who go on the show are terrible people who'd break up with them just to be on TV. Oh, Chad, such noble work.
Saint Nick takes it upon himself to stand up to Chad. Really, he's just trying to erase the image of himself in a Santa costume from the minds of the Bachelor Nation. It's not going to work, but he's got to try.
He stands up, takes his jacket off, rolls up his sleeves and threatens to fight Chad, telling him to back up his bullying words. "Typical Americans. We have to resort to violence," says Damn Daniel.
Chad turns down the invitation to fight Santa because they're both in dress shoes and would fall down—as good a reason as any I guess—and tells Saint Nick to "Think about your thoughts before you say them." Oh, Chad, I've missed you.
Derek is the next guy to start in on him, but Chad wins that round with a well-timed, "Your pocket square doesn't match your shirt." Hopefully Derek will someday recover from that sick burn.
Chris Harrison asks Chad about the drama that went down with Alex. "He was just super annoying," Chad replies. Agreed.
Finally they get to the big Chad moment. As you may remember, he threatened to find Jordan at his home after the show ended. Chad says he doesn't understand why everyone was so upset, he was simply going to bring him some candy. I don't quite know what to say to this.
He's not done, either. He claims Jordan is on the show because he wants a sportscasting job. He also says Robby has "threatened" his ex girlfriend into not giving any interviews.
The group revisits the Evan shirt-rip incident, and it seems like everyone is falling under Chad's spell. When they replay the video, the audience agrees with Chad that Evan did push Chad.
Chad for President!
Chad tells Chris Harrison he has no regrets about what went down on the show, because "sometimes you choose apples when you should've chose pickles".
And just like that, Chad-time comes to an end. Oh, Chad, we hardly knew ye.
Next up is Luke, who quickly cements his position as the next Bachelor. They talk about how he thought his actions were speaking loud enough, how he's still in love with JoJo, and how because he loves her, he just wants her to be happy. He says he's thankful she taught him to love again.
Seriously, ABC, he's making this very easy for you.
Next, Chase keeps the no-regrets train rolling, saying though he was blindsided by how things went down on Monday's episode, he's thankful to JoJo for teaching him how to express his feelings.
"I think that phrase, 'I love you,' carries a lot of burden." - Chase #MenTellAll
🌹#TheBachelorette pic.twitter.com/VfdlfMXx7T

— The Bachelorette (@BacheloretteABC) July 27, 2016
Finally, it's time for JoJo to join the party so the guys can ask her what went wrong.
"If I had been more direct earlier, would it have made a difference?" asks Luke. JoJo says she's not sure, but admits hearing the words is the way she feels love. Basically a long way of saying, yes, it would have made a difference.
Chase asks why JoJo gave him the fantasy suite card if she was going to send him home. She says she didn't see it coming and still feels guilty about it.
Chase, who I think is trying to audition to be the next Bachelor as well, tells her she has nothing to feel guilty about and thanks her for the experience. Nice try, Chase, but Team Luke all the way.
Paradise, Hurricane Chad is coming. Hide your meats! #MenTellAll
🌹#TheBachelorette pic.twitter.com/5AmQBXLp5J

— The Bachelorette (@BacheloretteABC) July 27, 2016
Chad, who has been in the audience eating meat he stored in his pocket since his segment, asks, "Can I talk? Can I say words?"
He says he wishes JoJo luck, but quickly tells her Robby did break up with his girlfriend to be on the show and that Jordan is a total liar.
JoJo, in an almost unrecognizable turn of events, says Chad is "not even worth my breath", which gets her a you-go-girl standing ovation from the other guys.
...and so it was that the princess squashed the villain and the kingdom rejoiced! #MenTellAll
🌹#TheBachelorette pic.twitter.com/DUCCw2RN0I

— The Bachelorette (@BacheloretteABC) July 27, 2016
Alex apologizes and JoJo explains Derek wasn't looking for reassurance. Blah, blah, blah.
And now we're here. The best part of the episode.
Vinny's mother stands up in the crowd and tells JoJo she made a mistake. She should have picked Vinny. (Vinny, if you need a refresher, was the barber who was cutting everyone's hair in Uraguay.)
"He would've never broke your heart," she tells JoJo." And JoJo agrees. She says that Vinny was probably her best friend in the house but they were more friends than anything else. Vinny's mom seems appeased but makes sure the Bachelor Nation knows her son is single before sitting back in her seat.
Vinny's mom for President!
The episode ends with a blooper reel, whose highlight is the unicorn Luke rode in on in the first episode licking JoJo's boobs. This prompts Chris Harrison to ask, "In what other experience do you get motor-boated by a unicorn?"
Good point, Chris Harrison.
Next week there will be five hours of Bachelor Nation fun-times to watch. If I survive, I'll be recapping. Watch this space.
The Bachelorette season 12 three-hour finale airs Monday at 8pm on ABC. The Bachelor in Paradise season three premiere airs Tuesday at 8pm on ABC. You can read the rest of our recaps of The Bachelorette here.
(And thanks again to the Instagram account BachelorMagic for these amazing Bachelorette drawings.)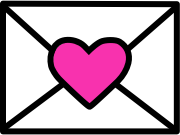 Sign up to receive
instant happy in your
mailbox every day.