Bow Down, Beyoncé Just Threw the Best Birthday Party
Beyoncé threw the best party ever in New York City last night.
No, we weren't invited. Yes, we are mad about that. But don't worry—there are plenty of photos from inside the Bey-day bash. And absolutely everyone was there (well, everyone except Sarah Jessica Parker). Seriously, you've never been to a party like this.
Never mind that Queen Bey had already spent the weekend partying with the Obamas and the Clintons at the Made in America festival. That was just a warmup.
The theme of her 35th birthday bash was Soul Train. The fashion was freaking incredible. So let's get to what you came here for: the pictures.
Beyonce and Jay Z's first outfit of the night (because you know, one is never enough).
Here's outfit #2. We'll let you decide which one you prefer.
Only Beyoncé could make these glasses look good.
And her sister, Solange, of course.
Here are Jay Z and Usher, looking cooler than ever (and also about 19 years old).
And of course, no party is complete without Blue Ivy dancing with her mom.
Bey and Jay bringing the moves straight from the '70s to now.
And P. Diddy and Cassie also took a ride on the Soul Train.
As did Michelle Williams.
Yess #MichelleWilliams was ready for #Beyoncé 's Soul Train party last night pic.twitter.com/soNDcyeQkK

— TheShadeRoom (@TheShadeRoom) September 6, 2016
Kelly Rowland dressed as Donna Summers, and chilled with Serena Williams.
Here are Alicia Keys and husband Swizz Beatz looking low-fi fabulous as usual.
.@THEREALSWIZZZ and @aliciakeys at Beyoncé's Soul Train-themed birthday party. pic.twitter.com/zW5jfR0vtJ

— BEYONCÉ LEGION (@Bey_Legion) September 6, 2016
What we would have given to have been invited to this…
Everybody who's anybody was at #Beyonce's Soul Train birthday party last night ✨✌️💃 pic.twitter.com/KlA7wMF5z0

— Page Six (@PageSix) September 6, 2016
Happy birthday, Bey. Please save us a couple of spots on the list for next year.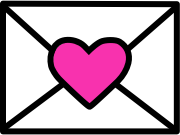 Sign up to receive
instant happy in your
mailbox every day.