Beyoncé Interviews Solange, Proves Your Sis Is Always the Best Cheerleader
I have been known to tell my sister, "You are the Solange to my Beyoncé". Meaning, "I am the star, and you are my backup singer." (Yes, I was and am an obnoxious sibling. I can own that.)
This is all in good fun, of course, and mainly in reference to the fact I was always the performer (not just in college theater productions, but in our family's living room), while my sister supported me from the sidelines (in both scenarios).
Don't get me wrong. My sister is a star in her own right. She's brilliant, hilarious, and the most selfless person I know; she's just not at all showy about any of it.
Solange Knowles, in much the same way, is quietly earth-shattering. She laid low doing her own thing over the years, raising her son, releasing albums, and working up to her most recent, A Seat at the Table.
Beyoncé, on the other hand, was selling out arenas, collaborating with Nicki Minaj, and having a very public relationship with a rap mogul.
This week, Beyoncé did her first interview in years. But this time she is the one asking the questions: to her own sister.
In their conversation in Interview Magazine, the Knowles sisters discuss Solange's new album, her creative process, and from where she draws inspiration.
As you can probably imagine, so much more is revealed in this interview than your standard version by a reporter who's met Solange five minutes prior and is shaking with nerves and excitement (I can only imagine).
This is because they have 30 years of history together. They know each other in a specific way nobody else does.
When Beyoncé asks Solange about what inspires her most, Solange talks about this shared history (and praises her sis in the process):
"Growing up in a household with a master class such as yourself definitely didn't hurt. And, as far back as I can remember, our mother always taught us to be in control of our voice and our bodies and our work, and she showed us that through her example."
Both attribute their character and work ethic to their father as well. Solange says:
"You and I were raised being told not to take the first thing that came our way, to build our own platforms, our own spaces, if they weren't available to us. And I think that he is such a powerful example of that."
However they're very much aware that both have depths to their personalities the other is yet to see. Like Solange's addiction to reality television:
Beyoncé: What makes you laugh the hardest?

Solange: The Real Housewives of Atlanta, hands-down.

Beyoncé: Really?! I didn't know that.
Perhaps the most smile-inducing element of the whole thing is how much these women support each other—most notably, the amount a mega-star like Beyoncé looks up to her sister:
"I remember thinking, 'My little sister is going to be something super special,' because you always seemed to know what you wanted."
She continues later:
"It was a three-year process to create A Seat at the Table. You took your time, and it's still so fascinating to me the amount of production you did for this album, the live instrumentation, with you physically, on the keyboards, on the drums, producing not only the vocals but also co-producing the tracks. It's something to be celebrated, for a young woman to be such a strong producer as well as a singer-songwriter and artist."
Solange discussed her work on A Seat at the Table in the kind of depth that can only be reached in conversation with someone who you've shared important moments with.
"'Cranes in the Sky' is actually a song that I wrote eight years ago. It's the only song on the album that I wrote independently of the record, and it was a really rough time. I know you remember that time. I was just coming out of my relationship with Julez's father…So I really had to take a look at myself, outside of being a mother and a wife, and internalize all of these emotions that I had been feeling through that transition."
For so long, I thought I wanted to be Beyoncé. But after reading this interview, I think I want to be Solange. She goes about her work in such a quiet, mindful way. She doesn't make a show of it, and she doesn't care if nobody listens. She just does it.
But I grew up wanting to be my sister, so really, that makes total sense.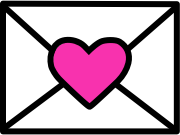 Sign up to receive
instant happy in your
mailbox every day.