This Couple Both Got Pregnant at the Same Time
Wouldn't it be nice if your partner knew exactly what you were going through when you were pregnant? If instead of patting you on the back and thinking, "It can't be all that bad," they were really feeling it with you?
Well, celebrity makeup artist Toby Fleischman and her wife, speech-language pathologist at UCLA Lindsay Lanciault, are living that dream. When they say, "We're pregnant," they mean it.
Fleishman, 41, and Laniault, 34, are both pregnant, and they're due only three weeks apart.
In a pregnancy announcement on Instagram, Fleischman wrote:
"We're excited to share some news…Lindsay and I are both pregnant! Yes, you read that correctly. We are both having a baby…at the same time. Well, three weeks apart to be exact."
"Everyone always says they want to get pregnant with their best friend and I just happened to be lucky enough to be married to mine," Fleischman continued. "Our 'twin' boys will be joining us this summer and we couldn't be more elated!"
In an interview with PopSugar, the couple explained their journey to pregnancy had been a hard one.
Fleishman, with the help of a sperm donor, tried for a baby in summer of 2015. She got pregnant but miscarried shortly after. Then medical complications arose and their donor's sample was no longer viable, which meant they needed to seek out a new donor.
The complications led to a lot of stress in their relationship (not uncommon for couples trying to conceive).
"Not that we were going to get divorced over it," Lanciault told PopSugar, "but…I didn't want to come home. We were at odds."
And Fleischman and Lanciault had the added pressure of being a lesbian couple in this type of situation—struggling with one partner's fertility takes on quite a different light when the other partner can step in. Eventually, the couple decided to shift their focus toward Lanciault conceiving their child instead. A decision that was very hard for Fleischman to make.
"I wasn't ready to stop," Fleischman told PopSugar. She remembers thinking: "'We can't be pregnant together. What are we, crazy? We can't do that.'"
But with the help of acupuncturist Danica Thornberry, the two were able to reconnect with each other; put negative thoughts about the possibility of a double pregnancy—or just getting pregnant at all—out of their heads; and focus on their joint effort to have a child.
"Women who identify as being infertile deal with a lot of jealousy and negativity as they see friends and sister-in-laws, family members, getting pregnant and they're not," Thornberry told PopSugar. "To have 'the enemy'—a pregnant woman—in your house, when you're not able to get pregnant and that's your wife, that's what made this case so unique."
Fleischman explained how Thornberry helped the couple through these challenges, "trying to think about the process in an emotionally healthy and positive way, and not trying to control it, and not trying to be crazy about it, and not trying to be negative."
In November, after two years of struggling, Fleischman learned she was pregnant just as Lanciault was beginning to try. A few weeks later, both were pregnant via the same sperm donor.
Fleischman and Laciault decided to share their story to raise awareness for others in the LGBTQ community trying to grow their families.
"It surprised me so many people don't realize the steps we have to take in order to simply create our families, and also to protect them," Fleischman told Babble.
"I wish more women had spoken openly to me about it before and during our process. It wasn't until I started sharing the details with some friends that I learned I wasn't alone," she explained.
After their initial concern for their family following the 2016 election, Lanciault and Fleischman have settled into a state of measured concern. They're confident in California's policies and legal protection for their family.
"We're really lucky that we live in Los Angeles," Lanciault says. "Hopefully, our kids won't feel like they're different because they have two moms."
But the future parents are eager to take more legal precautions as soon as possible. "We're very eager to adopt each other's children as soon as legally possible just to solidify that aspect of it . . . just in case!" Fleischman said. "You just don't know. We live in this lovely world of California but you just don't know."
The couple say they're both excited for their new doubling family, but both, of course, "a little nervous" about the potential of going into labor at the same time.
Still, the overall moodis of excitement and togetherness.
"If she's feeling something that I've gone through, I can validate it and say that that's normal," Fleischman told PopSugar.
"But, like I said, there are a lot of hormones in the house and we go through waves—in one day—of being obsessed and in love with each other and so euphoric, to 'I don't want to be next to you. Please don't talk to me.'"
H/t: PopSugar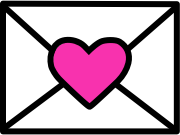 Sign up to receive
instant happy in your
mailbox every day.