PHOTO: INSTAGRAM/ELF COSMETICS
PSA: Do You Know About the Secret Extra Feature on Your e.l.f. Lipstick?
We've all had the experience of shopping for a new lipstick and struggling to find the right color or even color matching to find the right shade. Well guess what, you've been using your e.l.f lipsticks wrong the entire time.
Turns out, this makeup artist approved brand has a little surprise you may not know about. Twitter user Zofie discovered that the her e.l.f. lipstick bottom pops off revealing.... a lip balm?
THE BOTTOMS OF ELF LIPSTICKS POP OFF AND ARE LIP BALMS??? pic.twitter.com/vbEIcwJiAW

— zofie (@spoopykittten) October 23, 2016
For many of us, this discovery was major. (I can't have been the only one that ran home looking for my e.l.f. lipstick bottom for a surprise lip balm.)
Well as it turns out, the bottom lip product surprise ISN'T a lip balm. Yup, you heard right. According to e.l.f.'s global artistic director, Achelle Richards, it's actually more of the lipstick in the tube. It's designed to make color matching much simpler for make up artists, who might need 'color swatches' to help them do their job.
But it is also a bonus for everyone else. When you think you've run out of your favorite color, you haven't: just pop the bottom off and keep on going.
@spoopykittten @elfcosmetics mine has lipstick instead of a balm I am SHOOK pic.twitter.com/6RTuQOnbwv

— neely cauldron (@nyneelz) October 23, 2016
Richards tells Allure, "we love that it's been a surprise and delight for many of our fans."
It certainly has been that.
@spoopykittten @elfcosmetics THIS IS A REVELATION pic.twitter.com/X75pyMeCZT

— NO FLOCKIN (@taymimpala) October 23, 2016
The best part, they ship internationally, so everyone can get in on it.
H/t: Allure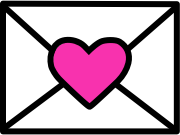 Sign up to receive
instant happy in your
mailbox every day.