PHOTO: ISTOCK
'Lagom' Is a Swedish Lifestyle Trend Relieving the Pressure to be Perfect
Last year, a Danish lifestyle trend called 'hygge' took the world by storm.
Hygge is the idea that coziness can, and should be, sought out in every way possible (from a reading chair to a winter sweater), and we should revel in that.
Danes created hygge not because they were happy & wanted to celebrate but because they were trying to survive boredom, cold, dark & sameness

— Hygge House (@hyggehouse) December 28, 2016
But a new trend out of Sweden is taking this one step further. 'Lagom' is the concept that we don't have to go looking for happiness, because we can find it in the things we already have.
The word 'Lagom' translates to "enough, sufficient, adequate, just right", and as Vogue put it, can be compared to one percent milk.
It's not fat free, yet not full fat—it's right in the middle. It's the best of both worlds, without swinging too far in either direction.
This concept isn't exclusively applied to milk, of course. Lagom is about finding satisfaction in the happy medium between insufficiency and overindulgence.
@theprivategirl And that is why I prefer a lagom lifestyle over a "minimalist" one, as in one that fits that movement's key characteristics

— Lea Elm (@AllThingsEla) October 16, 2016
Here are a few ways you can incorporate the trend:
Try having a 'dry January'
Dry January doesn't sound fun but then again no hangovers/beer fear/overwhelming anxiety that cripples your entire system?

— Sophie Newton (@Sophie_newton) January 1, 2017
This means no alcohol for the entire month. It's not only a test of will power, but it will cut down your costs for the month.
Plan your meals for the week ahead
This tactic cuts spending, and helps you make healthier and more conscious choices throughout the week.
Planning out my meals helps me live and feel healthier, too. When I don't plan ahead, I make poor choices #CFISDAPchat https://t.co/h2IthuGI50

— Meredith Akers (@meredithakers) January 6, 2017
Switch to a menstrual cup
If you've ever been curious about making the switch, now's the time. Menstrual cups significantly cut down on waste, one of the tenets of Lagom.
Climate change has become so real to me that I finally decided to buy a menstrual cup.

— Morgan La Flare (@mashclash) December 27, 2016
'Lagom' might be a trend, but it also is kind of a sensible way to live life.
Even without being fully committed to it, it's possible to make a few small changes towards being less wasteful and more grateful in the new year.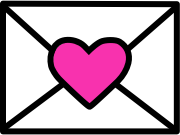 Sign up to receive
instant happy in your
mailbox every day.