Lane Bryant Want to Make Stretch Marks in Fashion Campaigns Normal
Body diversity seems to be having a serious moment right now.
This year alone, there's been some serious progress towards a more inclusive society. More and more women are shedding light on the unfair standards heaped upon us and opening up about their insecurities.
Plus size women's clothing brand, Lane Bryant, has a long history of commitment to diversity. Their recent campaign proves that they are taking things to a new level, and it's so inspiring to see.
The brand's recent swimwear campaign images feature plus size models posing confidently, and proudly showing off their stretch marks.
It's also worth noting that the caption of the photo doesn't speak a word about the fact that the model has stretch marks. The stretch marks are not the point of the image; the point is the model's confidence.
The model, Denise Bidot, later reposted the image to her own account with the caption, "Loving this new image and how real it is. Thank you Lane Bryant for loving my body, stretch marks and all."
Brian Beitler, CMO and EVP of marketing at Lane Bryant, told Huffington Post:
"We at Lane Bryant simply believe that all women should be seen and celebrated as they are. Society and the media continuously project an unrealistic and frankly out-dated beauty and body standard."
This is certainly a refreshing attitude coming from a fashion brand; hopefully, other companies follow (bathing) suit.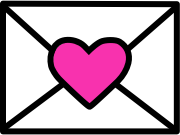 Sign up to receive
instant happy in your
mailbox every day.