Learning to Stand Together
I know I should stop being surprised by how much I enjoy The New York Times' Modern Love video series. I've seen so many of them, but somehow I always seem to be caught off guard by the stories and relatable animation.
"Together We Stand," takes Anna Marsh's beautiful Modern Love essay about falling in love with her husband Adam after two failed marriages, and makes it so much more. In essay, Anna describes what it was like to start a relationship with a man in a wheelchair. In the video we get to hear (and see, thanks to the animation) what life is like for Adam, from Adam.
The video opens with Anna saying, "Adam does almost everything at the house. Walks the dog, takes out the trash. I'm always like 'I'll clean up,' and he's like 'No, I got that.' I'd only really do the things he can't do. Change lightbulbs, mosquitos get in and they're up on the wall. He can't do that." 
Adam was 16 years old when he broke four vertebrae in his back in a car accident, making him an incomplete paraplegic. "Changing a lightbulb is a simple task and I just cannot do it." he says. "It's one of the things that even after 26 years in the wheelchair I still get frustrated about."
Anna and Adam met when she posted on a local kayaking board. She got a message from Adam, and they started a casual conversation that quickly became much more than casual. (This section of the video is why I love this video series. You get parts of the story you don't get in the written version.)  Anna describes a conversation that quickly moved from "Why are you in a wheelchair?" to questions about the logistics of wheelchair sex.
One night Adam's back was causing him pain so he laid down on the couch with a heating pad. He woke up with his back feeling better, but a two-by-four-inch burn on his back. Anna wanted to go to the emergency room immediately but Adam said, "I think we need to get some Neosporin and go to bed." She was not happy about that cavalier response. "I started crying and crying and then that sort of all came out," Anna says. "'The wheelchair's a little more than I thought going into all this. I'd be devastated if anything happened to you and I'm kind of mad at you for that.'" 
Adam's response was, "I know, but I'm not going anywhere."
Their relationship is about learning that it's okay to be important to each other, to rely on each other. "Even after 26 years of being in the wheelchair there are challenges," Adam says. "Many times, every single day…Even if it's not working out right now, that's ok. There's going to be a way that we're going to make this work."
Sigh.
Bonus info: I highly recommend reading Anna Marsh's full essay, "Finding My Own Rescuer."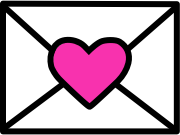 Sign up to receive
instant happy in your
mailbox every day.