PHOTO: INSTAGRAM / @HEIN_KOH
This Superhero Multitasking Mom Breastfeeds Twins While Working
In a photo showing her breastfeeding both her twins while working on her lap top, artist American Hein Koh proves that kids don't have to slow professional moms down.
Koh's Instagram photo shows that new working moms are absolutely badass superheroes who get shit done on little-to-no sleep. And clearly the image resonated - it got thousands of likes and comments.
Koh uploaded the picture in response to comments made by performance artist Marina Abramović in an interview with German newspaper Tagesspiegel.
"I had three abortions because I was certain that it would be a disaster for my work. One only has limited energy in the body, and I would have had to divide it," she said. "In my opinion, that's the reason why women aren't as successful as men in the art world. There's plenty of talented women. Why do men take over the important positions? It's simple. Love, family, children – a woman doesn't want to sacrifice all of that."
Brooklyn-based artist Koh disagrees with Abramović's argument that kids hold female artists back. To prove her point she posted the throwback photo showing her feeding twin daughters Amelia and Oneida.
In the caption, Koh explains the photo, taken in 2015 when her twins were five-weeks-old, shows that despite the sleep deprivation and frequent breastfeeding, she "was still getting shit done."
"All Marina knows is her own experience, and it may be true for her, but that is not everyone's experience nor truth," Koh writes. "Becoming a #mom (of twins no less) has personally helped me become a better #artist - I learned to be extremely efficient with my time, prioritize what's important and let go of the rest, and #multitask like a champ.
"I learned to function (even if barely) on very little sleep, and out of the chaos, insanity and even torture at times, a flood of new emotions entered into my work, becoming more interesting & layered as a result."
She add that the challenges of parenting can make you a better person.
"What I am saying is that parenting is like any other challenge in life - the biggest fucking challenge in my own life thus far - and if you embrace it and figure out creative solutions, you can emerge a better person," she writes. "It's important to think about the ways in which these challenges can help you move forward, rather than hold you back."
Let's hear it for all the badass superhero moms out there.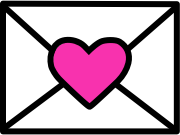 Sign up to receive
instant happy in your
mailbox every day.