PHOTO: GETTY
News Bite: Simone Biles and Aly Raisman Are Grace and Power in S.I. Shoot
Tuesday this week, Sports Illustrated released photos of U.S. Olympic gymnasts/all-round-superwomen Aly Raisman and Simone Biles for its annual swimsuit issue. And they look perfect. Not because of their flawless skin and toned limbs (though still, nice one). But because the poses in the Aly Raisman Simone Biles Sports Illustrated shoot show what their bodies can do.
Which thanks to hours—years—of extraordinary passion and discipline, is nothing short of extraordinary.
"Aly and Simone represent all that is beautiful and strong and inspiring in women today," said editor M.J. Day in a statement.
"Women that are not only elite athletes, that are captivating and impressive in their own professional accomplishments (lots and lots of Olympic gold medals between them), but strikingly sexy and beautiful in front of photographer James Macari's lens."
"These women, their beauty, and what they can achieve know no limits."
It shouldn't be groundbreaking, that feminine strength and power is sexy (and it's not just that either, of course). But the shoot is a great rebuttal to anyone still somehow okay with criticizing the bodies of these skilled women. And they do exist.
you all can judge my body all you want, but at the end of the day it's MY body. I love it & I'm comfortable in my skin 🖤

— Simone Biles (@Simone_Biles) December 28, 2016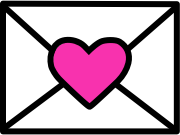 Sign up to receive
instant happy in your
mailbox every day.