The Most Horrific Wedding You've Ever Seen
What's the worst-case scenario you can imagine at a wedding? The groom not showing up? Or, maybe, hundreds of guests being ripped apart by flesh-hungry members of the undead?
Most people know at least one zombie-obsessed person. Someone who has a plan in place should the zombie apocalypse ever occur, who's devoured every book and watched every movie and TV show on the subject.
But there are zombie-obsessed people everywhere, and then there's the NFL's DeAngelo Williams.
The Pitsburgh Steelers running back took zombie fandom to a whole new level. He had a Walking Dead-themed wedding.
On Saturday July 23rd, at the Peabody hotel in Memphis, Tennessee, Williams and long-time girlfriend Risalyn Burzynski made the jump in a ceremony inspired by the AMC drama.
"I'm a huge Walking Dead fan," Williams explains in a video for ESPN. "I wanted to do engagement photos of us being chased by zombies and we didn't have time because it was during season and we didn't have the opportunity, so [Risalyn] was like, 'How are you going to pull that off?' "
This is how.
Williams was somehow able to convince the entire wedding party to sit for professional makeup artists and transform into zombies.
"He didn't have to convince me," Burzynski notes in the clip. "He really had to convince the bridesmaids, and then he said they had to do it because they're bridesmaids."
Williams says the zombie theme was partly to live the fantasy (/nightmare?) but also to make the day more memorable.
"Everybody goes through weddings. They walk down the aisle. It's over with," he explains to ESPN. "[Our zombie wedding] is a time for us to laugh and point and say, 'Ha, you look goofy.' It gives us a chance to step outside our comfort zone and put on our acting skills, whether we possess them or not."
Seems pretty safe to say it worked.
Despite the theatrics, Williams has his priorities straight.
"What makes it even more magical is not only did I become a walker, I became a husband."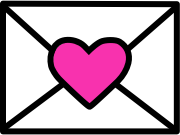 Sign up to receive
instant happy in your
mailbox every day.