Wear Your Pantsuit Pride Everyday—and Raise Money for the Women's March
As the clock ticks down to the mega Women's March planned for January 21 in Washington, DC, as well other locations around the country, a New York City-based artist has put her talents to work to create the ultimate symbol of pantsuit pride.
Through her new Red Pant Suit Pin, artist and designer Morgan Brock aims to raise money to help defray the costs of organizing the Women's March on NYC, one of dozens of events that will be held across the country on January 21 to support the national march.
"The design and idea just came out of a doodle in a sketchbook and I ran with it from there," says Brock. "For me it wasn't enough just to sell them and be done with it. Because of the message that provoked the pin, of girl power and this rising symbol for the pantsuit, I really felt it needed to kick back to the cause."
The pin retails for $12, with 20 percent of the proceeds going to the New York City march. At the time of writing, the pin has generated $255 over four days for the march, which also a GoFundMe project page to raise money for everything from volunteer safety vests to permit fees and walkie talkies.
Brock hopes to raise $1,000 to help support the march.
"It never crossed my mind how many hoops these leaders jump through to pull off an event like this or how many funds are needed so I am glad to help in anyway I can," she says. "I wish this idea had struck me sooner so I could have more time to raise money."
Scheduled to coincide with the first day of the Trump administration, the national and local Women's Marches are intended to "send a bold message to our new government that women's rights are human rights".
As the Washington march's mission statement states, "We stand together, recognizing that defending the most marginalized among us is defending all of us."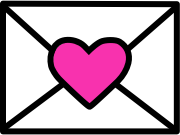 Sign up to receive
instant happy in your
mailbox every day.