PHOTO: iSTOCK
Two Easy Ways to Wear Two-Toned Lips This Holiday Season
If you're looking for a way to spice up your makeup game then look no further than your lipstick. Lipstick can draw attention to your face and give you the pick-me-up you need to stand out and look fabulous.
Take it one step further with the two toned lip. This look hails from the reigning beauty empire of the world, Korea, and takes only seconds to achieve.
Here are two easy ways to pull off your two toned lip:
Gradient Lips
A gradient lip is a great look for you if you want something that's both eye catching and understated. The best way to achieve this look is to start with a light, sheer lip color (or even a tinted lip balm) and apply it all over your lip.
The next step would be to take a brighter color and dot it in the center of your lips. The idea is to layer the brightest/boldest color in the center so it draws more attention to the center of your face. From there, blend out with your ring finger or rub your lips together.
The final look? One beautifully minimal lip look like this:
Or this:
Ombre
An ombre lip is a bit more dramatic and looks amazing in photos. To achieve this look, you'd only need your favorite lipstick/liner and a bit of eye shadow.
First, you'd fill in your lips as usual with either a lip liner or your favorite lipstick tube. From there, you can either use your fingers or a brush to apply a darker eyeshadow color to the corners of your lips. It should look a little something like this:
Or this:
Be careful not to overshadow your lips or else you'll end up looking more vampy than you'd mean to. But of course if vampy is what your going for, then rock it like Kat Von D.
The final look? A glamorous lip without any the hassle. You're welcome.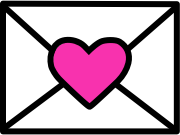 Sign up to receive
instant happy in your
mailbox every day.