PHOTO: GETTY
The "Starter Marriage" Is Becoming Normal. That Could Be a Very Good Thing
After dating for about a year, Ryan Reynolds and Scarlett Johansson got married.
Two years later they announced their divorce.
Reynolds and Johansson had a "starter marriage".
In her book The Starter Marriage and the Future of Matrimony, Pamela Paul defines a starter marriage as a first-time marriage that last five years or less and ends without any children.
Today, at least according to Time, this would be called a "beta-marriage".
Time's Jessica Bennett argues that as we get used to beta testing everything in our lives, beta-testing a marriage is a natural progression.
"For a generation reared on technology, overwhelmed by choice, feedback and constant FOMO, isn't testing a marriage, like we test a username, simply…well, logical?" Bennett asks.
In 2014, the USA television network published the results of a survey on millennial marriage views. They asked 1,000 people between 18 and 49 questions about love, sex, cheating, and all things marriage.
40 percent of those surveyed said they think marriage should include a two year beta testing period to work out all the kinks. 40 percent want to remove 'til death do us part' from wedding vows. And, 56 percent said that they believe a marriage can be considered successful even if it doesn't last forever.
Basically, people don't have as big of a problem with the idea of a starter or beta marriage as you might think.
That being said, we don't live in that world. We live in a world where no one enters into a marriage thinking it's going to fail. So for that reason it makes sense that a Gallup poll found that 59 percent of millennials have never been married.
That coupled with the rising rate of unmarried cohabitation (up 1000 percent since the 1960s), it's easy to glean that the younger generation are choosing to do their marriage beta testing before saying 'I do'.
But for those who don't realize it's not right before the wedding, don't be to hard on yourself. You're simply beta-testing the idea of beta-testing marriage.
And remember, Scarlett Johansson went on to marry journalist Romain Dauriac and the couple has a daughter named Rose.
Ryan Reynolds, went on to marry actor Blake Lively, with whom he has two daughters, James and Ines.
In an interview in Glamour in 2014 Johannson spoke about about what she learned from her divorce from Reynolds.
"I feel I know now more of what I need in a relationship, what I want in a relationship," she said. "And I know I have more tools to communicate, not just with my partner, but with myself."
She learned how to have a better marriage from her failed marriage.
If it's good enough for Scarlett…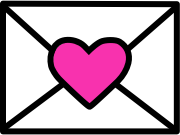 Sign up to receive
instant happy in your
mailbox every day.