PHOTO: ISTOCK
Our Secret Love Affair With Stealing Other People's Clothes
Food tastes better when it's made by other people, and clothes feel better when they belong to other people.
Fact.
Well, I'm fairly certain it's true, and not just for myself. I'm just not sure exactly why.
My mother had this black zip-up sweatshirt when I was a kid that she must have purchased in the 1980s or early 1990s. I would steal it from her all the time, mostly because it was so big on me (my mother is 5'10) and was like a giant cozy dress.
I stole it so often that she eventually just gave it to me, accepting the fact that it would never truly be hers again. When I went to college, I took it with me. I still have and wear it to this day.
When I asked my friends if they had similar experiences with their parents' clothes, I found that I was not alone.
"After my mom died, my dad had me help myself to her jewelry, and his mother's as well. I took several pieces and now I feel like my mom and my grandmother are with me when I wear them." —Maggie
"I have a shirt my father's mother bought him when he was in law school. It's from a Washinton, D.C., store, called Hecht's, which is no longer around. The shirt is a yellow/tan/light brown color, polyester and has a great 70's vibe to it. I get a lot of compliments from older people when I wear it. They just know it's vintage." —Irene
"My mom and I trade clothes all the time. I lost half my closet when I moved out of the house. Exhibit A (below): Me wearing my mother's jumper on vacation this summer, even though I had a whole suitcase of clothes." —Jackie
I also discovered stealing clothes is a common crime among my friends and their significant others as well:
"I will wear anything and everything my husband owns. Men's clothing is always softer, and with our size difference (I'm very short and he is a giant), I've got built in pregnancy clothes for around the house." —Sadie
"Most of my clothes are other people's clothes. The items that have more of story to them are probably the ex's shirts. My favorite is my first boyfriend's blue- and red-plaid button-up. It's been my sleep shirt since we dated. There are holes everywhere but I refuse to give it up. It reminds me that I've been loved and felt safe. Maybe that's why. There are a lot of good memories attached." —Evie
In reality, my mother's sweatshirt isn't any cozier than other ones I own. In fact, the worn interior has removed any trace of new-hoodie softness, it's not particularly warm and the zipper has since fallen off.
But it makes me think of my mom, of home, and it reminds me that people love me and take care of me, even when they're not nearby.
So in a way, that makes it the comfiest sweatshirt of all.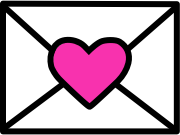 Sign up to receive
instant happy in your
mailbox every day.