PHOTO: ISTOCK
We Now Know the Woman Behind Those Glorious Wendy's Tweets
On January 3 this year, the world started taking notice of the quiet hilarity of fast-food outlet Wendy's Twitter account.
The brand got into it with a Twitter troll named Thuggy-D (@NHride) and delivered a burn so good the troll actually deleted his account for a time.
Here is the exchange in all its glory:
Our beef is way too cool to ever be frozen. 😎 pic.twitter.com/QuXECJtlq5

— Wendy's (@Wendys) December 30, 2016
@NHride Sorry to hear you think that! But you're wrong, we've only ever used fresh beef since we were founded in 1969.

— Wendy's (@Wendys) January 2, 2017
@NHride Where do you store cold things that aren't frozen?

— Wendy's (@Wendys) January 2, 2017
@NHride You don't have to bring them into this just because you forgot refrigerators existed for a second there.

— Wendy's (@Wendys) January 2, 2017
Everyone, including Anderson Cooper, took their hats off for this cutting repartee.
.@andersoncooper gets to the meat of Wendy's Twitter beef in #TheRidicuList https://t.co/KqvOax7JAH

— Anderson Cooper 360° (@AC360) January 4, 2017
And thanks to Mashable, we now know the woman behind the fast food chain's social media win is Amy Brown.
Brandon Rhoten, Wendy's VP of Advertising, tells Mashable he hired Brown four-and-a-half years ago "after trolling her on Twitter", and that her banter with an edge is what Wendy's is all about.
every january i emerge from hibernation to make my One Big Tweet from the corporate account. see u guys in 2018.

— amy (@arb) January 3, 2017
"The intent of the social media team is to represent the brand's voice as best as they can," he told Mashable. "When folks say, 'Roast me,' we're going to have fun with that."
@LacedlLouie Get one of your 51 followers to roast you.

— Wendy's (@Wendys) January 3, 2017
And it's earning Wendy's new fans, including the man Brown completely destroyed. After a Twitter break, Thuggy-D returned to the platform to share his respect.
@Wendys #respect pic.twitter.com/VnN8LNWG7L

— Thuggy-D (@NHride) January 5, 2017
Cue the rest of the internet trying to start cheeseburger Twitter wars in 2017. For those looking to get into the social media game, Brown suggests being as real as possible.
"I think both as a brand and a human being trying to use Twitter, authenticity goes a long way. And, of course being funny doesn't hurt," she said.
Oh, and eating Wendy's over McDonald's.
@_inkedSnowFlake pic.twitter.com/IhRsonIUnJ

— Wendy's (@Wendys) January 3, 2017
H/t: Mashable
Watch our video to see some of the social media moments that made a difference in 2016: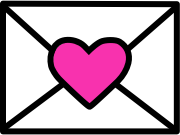 Sign up to receive
instant happy in your
mailbox every day.