What is Bullet Journaling and Why Should I Do It?
Before I wrote for Flo & Frank, I worked as a project manager. It was my job to make sure companies (and celebrities) were in order and running smoothly.
So when it comes to someone else's life, I'm an organization pro. But, of course, if it's my own, I'm a mess.
I've downloaded and deleted pretty much every app out there that promises to help me get organized. The systems always feel too rigid for my life—or not structured enough.
But now, I've discovered Bullet Journaling.
What is Bullet Journaling?
Bullet Journaling is a very customizable way to organize yourself, designed by Ryder Carroll, a digital product designer. It's not tech-y though, it's all old-school: basically a hand-drawn diary that acts as calendar, to-do list, and notes, all in one.
How does it work?
All you need for a Bullet Journal is an empty notebook. Number the pages, and then break it down into these four core sections. From there, how you use it is entirely up to you.
1. The index
The first few pages are your index. Here, you list the page numbers of any subjects you want to include in your journal, so you can find them quickly when you need to.
2. The future log 
In this section, you keep track of events and deadlines coming up in the next six months.
3. The monthly log
Here you keep track of events and deadlines taking place within a specific month. You also list your monthly tasks.
4. The daily log
This section is for writing down your daily tasks, events and notes. You use it for planning and getting through each day, with a method called rapid logging.
What is rapid logging?
It lets you mix notes, things you have to do, and events on a single page, using different bullet points to distinguish them.
A task ("do the dishes") gets a simple dot next to it.
A note ("I dreamt I went to a Vin Diesel-themed party") gets a dash.
An event ("Vin Diesel-themed party") gets a circle.
When you finish a task, turn the dot into an "X".
If you didn't finish, move the task to the next day by turing the dot into an arrow and adding it to your new daily log.
How do I make my Bullet Journal my own?
The best part about Bullet Journaling is how customizable it is. People get really very creative with their systems, making beautiful, useful details and layouts.
Here are some of the MVPs we've seen on Instagram:
But wait, what if I still don't get it?
Check out this video from Carroll himself, on how he set up his own journal.
And why should I bother?
That Vin Diesel party isn't going to plan itself.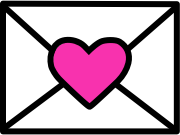 Sign up to receive
instant happy in your
mailbox every day.