PHOTO: TREVOR JENNINGS/FACEBOOK
Bachelor Party Turns Adorable After Discovering Abandoned Puppies
Mitchel Craddock's bachelor party started as a boozy boys' catch-up. But after the group came across a litter of stray puppies, it took a warm and fuzzy turn (geddit?).
The boys were cooking breakfast during the bachelor weekend in the Tennessee woods when a bedraggled female dog showed up at the cabin doorstep.
"She was very friendly but very skittish— I thought maybe she had been booted out of a house before," Craddock told Michigan Live.
"She wouldn't come inside, but she sat right there," he told ABC News.
The Michigan men started calling the dog Annie, after Little Orphan Annie, and realized that she seemed to have recently had puppies.
When they saw that Annie was protecting a spot in the forest, they went to investigate. There in the woods, they found a big hole where seven puppies had been living, ABC News reports.
All were well-fed, as if Annie had been feeding them everything she could get her paws on.
Before long, the bachelor party had become all about taking care of the tiny mutts, who needed a wash to rid them of dirt and fleas.
"We pooled a bunch of money to buy food and beer. After the third day, our beer fund turned into puppy food fund," Craddock told ABC News.
When the party came to an end, the boys knew what they had to do. Four of the groomsmen and the groom each took a puppy home.
The other puppies and Annie were taken in by relatives, party attendee Trevor Jennings told The Huffington Post.
Craddock and his fiance Kristen married on October 8, and Kristen was apparently thrilled for him to come home with a new puppy.
"I proposed to her with our chocolate Lab, and now it's our joke that for any of our big life events, we'll get a dog," Craddock told ABC News.
The puppies now have their own Facebook page, Tennessee Mutt Puppies, where the adoptive families continue to share photos of the puppies' lives.
And in extra-happy news, the litter still stays in touch. As Jennings told The Huffington Post: "All puppies are in about a five mile radius of each other and still see each other most weekends."
How's that story for a Monday pick-me-up?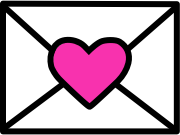 Sign up to receive
instant happy in your
mailbox every day.