PHOTO: GETTY
All the Men Who Shouted Out Their Better Halves at the Golden Globes
Kicking off awards season this year was the Golden Globes, where the actors and directors are given small statues by the Hollywood Foreign Press Association. The dresses were great, the speeches were better, but by far our favorite moments of the night happened on stage, each time a male actor mentioned their partner.
In no particular order, these were our favorites.
Ryan Gosling thanking Eva Mendes.
The 36-year-old father-of-two dedicated his Golden Globe win for Best Actor in a Comedy or Musical to his partner, Eva Mendes.
"You don't get to be up here without standing on the shoulders of a mountain of people and there's just no time to thank everyone," he said.
"I just would like to try and thank one person properly and say that while I was singing and dancing and playing piano and having one of the best experiences I've ever had on a film, my lady was raising our daughter, pregnant with our second and trying to help her brother fight his battle with cancer. If she hadn't have taken all that on so that I could have this experience, it would surely be someone else up here other than me today. So, sweetheart, thank you. To my daughters, Amada and Esmeralda, I love you and if I may I'd like to dedicate this to the memory of her brother, Juan Carlos Mendez."
Andrew Garfield's standing ovation for Emma Stone.
We've written about these two amicable exes before, and as Stone, 28, got up to accept her award for Best Actress in a Comedy or Musical, Garfield stood up and cheered for her entire walk to the stage.
Aaron Taylor-Johnson dedicates his award to his wife.
In one of the most grueling, terrifying and incredible performances of the year, Taylor-Johnson played a sadistic killer named Ray Marcus in Nocturnal Animals. The role earned him the Best Supporting Actor award, and he took the moment to dedicate the accolade to his wife, Fifty Shades of Grey director Sam Taylor-Johnson.
"I want to thank my wife for being there with me and supporting me through this," he said.
"Thank you for putting up with me, Jesus. I was not very pleasant in this role. You're my soulmate and I love you very much. I'm blessed. I have four beautiful daughters… I have my parents watching tonight. Thank you."
Casey Affleck proved exes can still be friends with his acceptance speech.
Affleck won Best Actor for his role in Manchester By The Sea, and took the moment to shout out his estranged wife Summer Phoenix (yes, she is Joaquin's sister), from whom he announced his separation in March 2016.
"I just want to say that despite how I might think I'm in charge in my house, it's my kids who give me permission to do this because they have the character to keep at bay all the noise that sometimes surrounds people who live publicly and to let me travel for months at a time," he said.
"I love you Indiana and Atticus. And to their mom who gave me every good acting idea I've ever had—thank you, I love you."
And because we couldn't let you leave without including at least one photo of Ryan Reynolds and Blake Lively, here are our favorite couples from the Golden Globes red carpet.
John Legend sitting down with Chrissy Teigen for a break, mid-red carpet.
Our forever-favorites, Kristen Bell and Dax Shepard.
Ryan Reynolds and Blake Lively staring deeply into each other's eyes.
Best friends Sarah Paulson and Amanda Peet graced us with their friendship.
Chris Hemsworth and Elsa Pataky, looking like utter perfection.
Matt Damon and Luciana Barroso, making a very classy pair.
That plunge. Those laughs. Their love. Justin Timberlake and Jessica Biel, yes please.
Until next carpet, folks...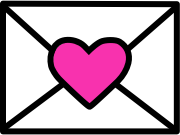 Sign up to receive
instant happy in your
mailbox every day.