PHOTO: ISTOCK
Your Guide to Packing Light for Your Summer Vacation
Packing the perfect vacation bag is truly an art. You need to make sure you have everything you need and make it all fit in a carry-on size bag to avoid paying baggage fees.
Luckily, packing light is definitely an art you can learn.
1. Make a list and stick to it
Packing light means only taking what you absolutely need, no more no less. So in order to do so making a list is paramount.
If you're not going to be able to do laundry, pack one shirt and one pair of underwear for each day and one pair of pants, shorts, or a skirt for every two to three. No, you won't be needing your ski boots for your beach vacation
Lay out and pack only what's on your list.
2. Stick to neutrals
You can pare down your list even more by sticking to neutral colors that can easily be mixed and matched together. Your summer destination will be bright enough and packing light will make you happier than even the sunniest yellow in the long run.
3.  It's not always a shoe-in (geddit?)
Ask yourself if you really need to bring your high-tops on your beach vacation. Odds are you don't really need them.
No matter where you're going or for how long there is never any reason to bring more than three pairs of shoes total. Though, two—a dressy pair and a casual pair—is probably enough.
When packing light, you want to maximize the space in your bag, so stuff your socks and underwear into your shoes and put them in the bag first.
4. Roll don't fold
While your mother always told you to fold your clothes and put them away, when packing light, it's best to roll them.
Lay your clothes flat and roll them tightly from the bottom up, stack them in your suitcase, and marvel at the space you'll have leftover. Enough space for your high-tops maybe.
5. Toiletries and tech on top
Packing only the essentials extends to toiletries as well as clothing. Packing light means forgoing your 32-step-Korean-skin-care-routine for a weekend in favor of TSA-adhering three-ounce bottles.
Once your toiletries are packed in a clear plastic sealed bag put them on top so they're easily accessible should you need to remove them while going through airport security.
Then grab your chargers, computers, tablets, cameras or whatever else you might need and add them to the bag before zipping it all up.
With your bag (lightly) packed, get out there and have some fun.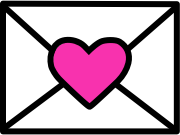 Sign up to receive
instant happy in your
mailbox every day.