Finding and Falling in Love at 71
"Dating is different at 71," says Nora Johnson, who had long been divorced when she met and fell in love with 83-year-old widower George. "I had a little more sense about it than I had before," she admits.
In this beautiful video animated by Arthur Jones, Nora says that dating was much more "complicated" for her when she was younger. Nora was 21 year old in a time of stockings and girdles and garter belts. Getting ready was a long, and according to Nora, pointless routine. She says she spent a lot of time fooling around with make up, "which really was unnecessary when you're 21." Now, however, her routine is a little different "When I get ready for a date at 71, I kind of do it in five minutes," she admits.
This touching and often funny video is based off of a NY Times Modern Love essay that Nora wrote about the surprising and "ridiculous" romance she found later in life. A romance she says she would not have been capable of having had they met earlier in their lives. She writes about the unexpected ways in which it changed her and her ideas about growing old, both the joy and the sorrow.
It was especially hard for her when this chapter came to a close seven years later. "He had said I was his last, loveliest adventure, and he brought joy and magic to my life. He died when he was 91 and I was 78." It was then that she realized that time had essentially stopped for her during their romance and only after George's death did she "start to get old."
But Nora wrote it all down for the rest of us. The hope, the love, and the life she and George experienced during their seven years together. It can remind us all that even when we least expect it, there is always a chance for love.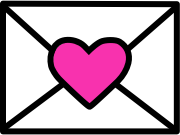 Sign up to receive
instant happy in your
mailbox every day.