Microwave Gourmet: How to Make Christmas Peppermint Bark
Peppermint bark is an American Christmas classic.
It looks like Christmas, it tastes like Christmas, and it smells like Christmas. The only thing that makes peppermint bark a pain to make is that it often requires a lot of pans, dishes, and time.
But our microwave recipe will give you a gourmet pan of peppermint bark in a few minutes…and just as few dishes.
Here's what you need:
One 16 oz bag of milk chocolate
One 16 oz bag of white chocolate
A box of candy canes
Peppermint extract
a jelly pan
Here's what you do:
Pour milk chocolate into a bowl and microwave for one minute, stir, and microwave again, until it's all smooth and melted when mixed.
Pour milk chocolate into the jelly pan, and put it in the refrigerator to solidify.
While the milk chocolate is in the fridge, start smashing the candy canes into small pieces. Sometimes it helps to roll over them with a rolling pin, but everyone has their own methods.
Next, start melting the white chocolate. White chocolate is much more temperamental than the milk chocolate, so melt it 30 seconds at a time and stir well between each melt. White chocolate also burns, and becomes clumpy easily, so keep an eye on it.
Once the white chocolate is melted, add a teaspoon of peppermint extract (more or less, depending on how pepperminty you want it).
Pour the while chocolate over the milk chocolate, and sprinkle the crushed candy canes on top.
Put the tray back in the fridge until the entire combination is solid again.
Crack the peppermint bark in an uneven pattern, and put it on a dish to serve.
Et voìla, easy, delicious peppermint bark.
Happy holidays.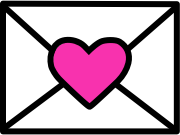 Sign up to receive
instant happy in your
mailbox every day.