Jaquie Goncher Re-Learned to Walk, to Walk Down the Aisle
In 2008, Jaquie Goncher was instantly paralyzed when she broke her neck. In 2016, she walked down the aisle and danced at her wedding.
At age 17, Goncher dived into a pool and broke her neck.
"It instantly paralyzed me from the neck down," she tells Flo & Frank. "After my second surgery, I was told I would never walk again."
The surgeon told Goncher's mother, "The chances are too small to put a percentage on." 
But Goncher had faith.
"The first time I moved my toe, my surgeon was in complete shock," she says. Though she uses her wheelchair most of the time, she was eventually able to stand for short amounts of time. By 2012 she was able to walk short distances. It was painful and exhausting, but she could do it.
In November of 2013, she met Andy Goncher on a now-defunct dating app called Let's Date.
"Andy was unlike anyone I'd  dated before," she says. "He was super, super shy whereas I am very outgoing and loud. When he met my mom for the first time, even she was confused as to why I was dating him because he was so different. I would say I knew he was the one not even half a year into our relationship. We just fit together so well."
In August 2015, Andy proposed and Goncher had a new goal. She wanted "to be able to enjoy my wedding free from the wheelchair."
"Walking down the aisle was something I didn't even think twice about," she explains. "I knew I had to. And I knew God would give me the strength."
For the next year, she pushed herself hard in physical therapy and in the gym. "I had to work on my core so that I stand for longer periods and I had to obviously strengthen my legs," she says. "While doing all of that, I was battling against low blood pressure, which is common in spinal cord patients. It was mentally exhausting because my blood pressure would bottom out before my body was tired. It was a constant emotional battle for me."
And on her wedding day in May, 2016, Goncher wheeled up to the edge of the aisle and blew all her guests away.
She stood up, and walked down the aisle to Andy.
She stood through the entire ceremony.
And walked back up the aisle with her husband.
They shared their first dance.
And Goncher danced for the entire reception.
"Knowing that I was told I would never have those moments, made them even more emotional," she says. "I felt blessed and honored to have found someone to stand by me and support me."
And how did she feel the next day?
"Exhausted," Goncher laughs. But also incredibly proud. "Andy and I kept talking about how impressed we both were that I had stood and danced our entire wedding!"
Months later, Maggie Smith Kuhn, a painter who live-painted the couple's first dance (note: how cool is that?!) posted photos from the wedding (taken by the very talented Love Stories By Halie and Alec) on Reddit. The response was huge.
"It's shocking really," says Goncher about the reaction. "I think when you've been dealing with an injury and obstacles for such a long time, it becomes normal to you. What others see as amazing , you see as daily life."
But she's incredibly grateful to have the photos of their amazing day to show her and Andy's kids and grandchildren.
"It was deeply symbolic of the journey, not only physically, but emotionally, I've walked through."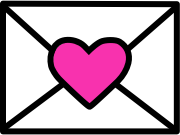 Sign up to receive
instant happy in your
mailbox every day.