PHOTO: ISTOCK
Definitive Proof Sex Gets Better As You Age
With a few exceptions, if you turn on the TV or go to the movies, you might think that sex is something that can only be enjoyed by the young.
According to a study in the Journal of Sexual Research, that couldn't be farther from the truth.
A research team led by University of Minnesota postdoc Miri Forbes collected survey responses from 6,278 people in 1995, 2003, and 2013. And, as Forbes and her team note in a post at The Conversation, the change in priorities that comes with age brought more satisfaction with one's sex life.
Among the questions asked of survey participants was, "How would you rate the sexual aspects of your life these days, from the worst possible situation (0) to the best possible situation (10)?"
Forbes and the other researchers explain that on the surface, through the years sexual quality did decline with age. "But," they write, "as people in the study aged, they placed more emphasis on the quality—not quantity—of sexual encounters. For example, frequency of sex became less important with age, and the amount of thought and effort invested in sex became more important."
That change in priorities, from quantity of sex to quality, proved to be "key predictors of sexual quality of life for older adults, and appeared to buffer its decline".
When the researchers looked at both older adults and younger adults, taking sociodemographic characteristics, and mental and physical health, into account, they found that the older adults had a higher sexual quality of life.
Basically, the more life experience you have, the better sex you'll have.
The average life expectancy for a woman in the United States is 86.6 years. Just imagine how good the sex will be then.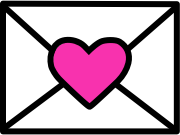 Sign up to receive
instant happy in your
mailbox every day.