"How a Stranger Made the Worst Day of My Life a Little Better"
On Thursday May 16, 2013, I received a call telling me that my father had passed away. I was in New Orleans, Louisiana on my way to the airport trying to get home. An hour earlier I had received a call letting me know he was being moved into hospice and didn't have long.
I thought not having long meant more than an hour.
I dropped the phone.
My brother and I were on a cross country roadtrip moving him from the west coast to the east. While I entered the airport alone, he went to go deal with all the details of what to do with his entire life being in the car and his needing to get on a plane.
Silently sobbing, I walked up to the desk to see if there were any earlier flights. Or at least I thought I was silent.
I wasn't.
I sniffled through my request and was told that unfortunately, the only available flight was the one I had booked. The one that left in three hours.
More less-than-silent sobs.
Everything hurt. And I was alone.
Until I wasn't.
A woman I didn't see (I didn't see anyone) walked up to me, put her arm around my shoulder, and asked me what was wrong.
"My dad is...my dad is dead," I replied.
I remember I said exactly that, because while I knew my dad had ALS and was going to die and was going to die soon, I had never been able to think the word dead. To think that I would have to change my tenses. That I would have to say 'My dad was' instead of 'is'.
I doubled over, but this woman caught me. She just held me still, propping me up on my feet.
She didn't say it was going to be okay. She didn't say she understood. She didn't say anything, but "I've got you". And she did.
Eventually I got it together enough to walk to the gate and stare out the window. Finally my brother joined me and we stared together. Both entering into a new life, a life without the man that taught us to be the people we were, the people we are today.
I wish I could thank that woman. She got me through. She got me to put one foot in front of the other. She was a nice human being who saw someone in pain and didn't shy away from it. She knew she could help, so she did. I will forever be grateful.
On Black Friday, Angel Mott received her own worst phone call of her life.
The 31-year-old, Des Moines, Iowa, woman was shopping for new dog beds when a nurse at the elder care hospice her 57-year-old mother Rose Danylchuck lived at called to say she had passed away.
Mott's mother had just been placed in the hospice a week earlier after months of suffering due to complications from massive strokes.
"I just kind of blacked out," Mott told The Des Moines Register about receiving the news.
"I just started crying uncontrollably. And I sat down on the shelves probably for about five minutes and just bawled."
People walked by, averting their gaze until a woman, with purple streaks in her hair approached Mott and asked what as wrong. After she explained the woman sat down on the floor and hugged her. She just sat there and cried with her.
Eventually, Mott was able to get to her feet and the stranger led her through the throngs of Black Friday shoppers, to the lines, and out to her car.
Dazed, Mott didn't think to ask the kind stranger for her name.
A few days later, Mott couldn't stop thinking about what a comfort the woman had been to her so she posted to the 64,000 members of the Facebook group, "I grew up in Iowa!" to see if anyone knew how she could get in touch with her.
"Hoping you nice people can help me find a lady," her message began. "I was out shopping on Black Friday at six in the morning at mills Fleet Farm in Ankeny. In the middle of shopping I got a phone call that my mom had passed away. I sat down on the shelf in the aisle and must've bawled for several minutes. some nice lady with black hair (I think) and purple highlights, sat down with me and hugged me for about five minutes. She cried with me. I would just like to thank her very much. Not one person stopped to see if I was OK. But her and her sister did and I appreciate that more than they'll ever know! My mom was my best friend. I felt like my heart was ripped out of my chest. she was only 57. I'm only 31, I still need my momma!"
The post was shared almost 600 times and eventually the sister of the woman who comforted Mott saw the post and replied.
"The lady she is looking for is my lovely sister Stephanie Uhlenberg. She just saw her there crying and couldn't just walk by," Ross wrote. "She had to make sure she was OK. Once she found out why she was crying her heart just went out to her. Doesn't matter if a stranger or not no one needs to be alone when receiving news like that."
When Uhlenberg learned that Mott had been trying to find her, she and Ross decided to attend Mott's mother's visitation at the funeral home.
The two women hugged again. They cried again. But this time as friends, not strangers.
"My heart just went out to you," Uhlenberg said to Mott. "I just wanted to know if you were going to be OK."
Mott told Uhlenberg that her hug meant the world to her. "It made me feel like people actually still care," she explained.
H/T: Distractify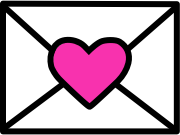 Sign up to receive
instant happy in your
mailbox every day.