PHOTO: GETTY
Victoria Beckham Is Brutally Honest About the Famous Styles She Regrets
Did you ever read the Victoria Beckham letter to her 18-year-old self?
It was for the October 2016 issue of British Vogue, but floated to the top of our feeds again this week and we decided it was high time we revisited. Beckham's advice to baby Posh Spice is a gift that just keeps giving.
There's the extremely cute story of how she and David Beckham met.
And then there's some real talk on the style front. Beckham is not afraid to own up to the moments that (really) didn't work. Relatable, and a lot of fun to read—with some really good advice in there, too.
Embrace the mistakes.
"You are going to have so much fun with your clothes," she writes. "It will never occur to you that you appear ridiculous."
From "PVC catsuits":
To "chokers that say absurd things" (note: I'm happy to personally defend all Posh Spice chokers ever; they were magnificent):
To "weird spiky blonde hair":
"You will always be addicted to Elnett hairspray," she adds, "but you will tone it down. Less of the 'Hello! I just got stuck in a wind tunnel', please."
Feel free to give yourself props for being now-very-fashion.
"You will learn, as you mature, to swap heels for Stan Smith trainers, minidresses for crisp white shirts," writes Beckham.
"And you will never be one of those people who just roll out of bed. Wear sunglasses a lot. Even inside. Especially at airports.
"They turn a nothing-outfit into something quite pulled together and cool. You are going to really like Aviators."
Love your body exactly as it is.
"You are not the prettiest, or the thinnest, or the best at dancing at the Laine Theatre Arts college. You have never properly fitted in, although you are sharing your Surrey school digs with really nice girls."
This bit makes you want go go back in time and give baby Beckham a hug.
"Learn to embrace your imperfections," she tells her baby self—and women everywhere. "Let your skin breathe; wear less make-up. (And don't ever let that make-up artist shave your eyebrows! The effects last forever.)"
Then there's the big one (or two).
"And I should probably say, don't mess with your boobs. All those years I denied it—stupid. A sign of insecurity. Just celebrate what you've got."
Just do you.
Beckham's letter celebrates the achievements of the Spice Girls. "Together you will make it okay to look different," she writes. She's clear-eyed about the incredible journey her fame has taken her on, and the platform it gives her.
"People will listen. Changes will happen," she writes. "That is not to say you won't be affected by what you see of yourself in the press. It will hurt you when people comment on your weight. It will continue to upset you whatever age you are, because we women are very tough on ourselves."
One thing that hasn't changed since Beckham was 18, then. Which I guess makes it the opposite of her hair.
Writing a letter to yourself in Vogue should feel like indulgence elevated to an art form. But it doesn't. Beckham's letter does "offer consolation and encouragement", not just to her younger self, but to any woman learning how she wants to look—and be—in the world.
H/t: Vogue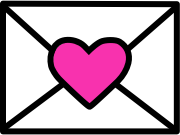 Sign up to receive
instant happy in your
mailbox every day.